Travel magazines and adventurers alike often wax poetic about autumn in Vermont. And it's true, the peak fall season is truly something special! But there's lots to be said about some of the other more underrated seasons here, and winter in my opinion tops that list. Here are a few reasons why:
1. Natural beauty all around.
As a former city person, I have vivid memories of trudging around sidewalks covered in goopy grey slush. Suffice it to say, city winter isn't so pretty! Not so here in the Northeast Kingdom. The sight of the mountains covered in snow always gives me a sense of calm. The forests of tall evergreens look even taller among the bare branches of their deciduous cousins. The light this time of year is unique too — that special way the sun hugs close to the horizon. It makes the snowflakes sparkle and casts a dreamy golden glow over the land. It's absolutely magical, and has made me love winter so much more.
2. Cozy, "hygge" vibes.
In my aforementioned city days, winter meant waiting for the bus in sub-zero temps and shoveling parking spots out from under three feet of dirty snow (claimed with a plastic chair, like a true Chicagoan!). I often found myself dreading the colder months and resisting them intensely, thinking only of the summer ahead. Winter in Vermont is something else entirely. Although the snow and cold can be formidable,  opportunities to experience the special coziness of winter abound. There's nothing like bundling up in your coziest sweater and sitting near a crackling woodstove with a hot cup of tea.
3. Winter sports, of course!
There are so many things to do in Vermont — winter is certainly no exception! There are numerous mountains to hit the slopes on skis or snowboard. If flatter terrain is more your style, enjoy cross-country trails or fatbikes. ATVs, snowshoeing and ice fishing are options too! Even foragers will still find treasures in the woods at this time of year, like pine needles or chaga (being sure to follow the principles of ethical and honorable harvest*, of course!). There are so many ways to get out and enjoy some adventure during the winter.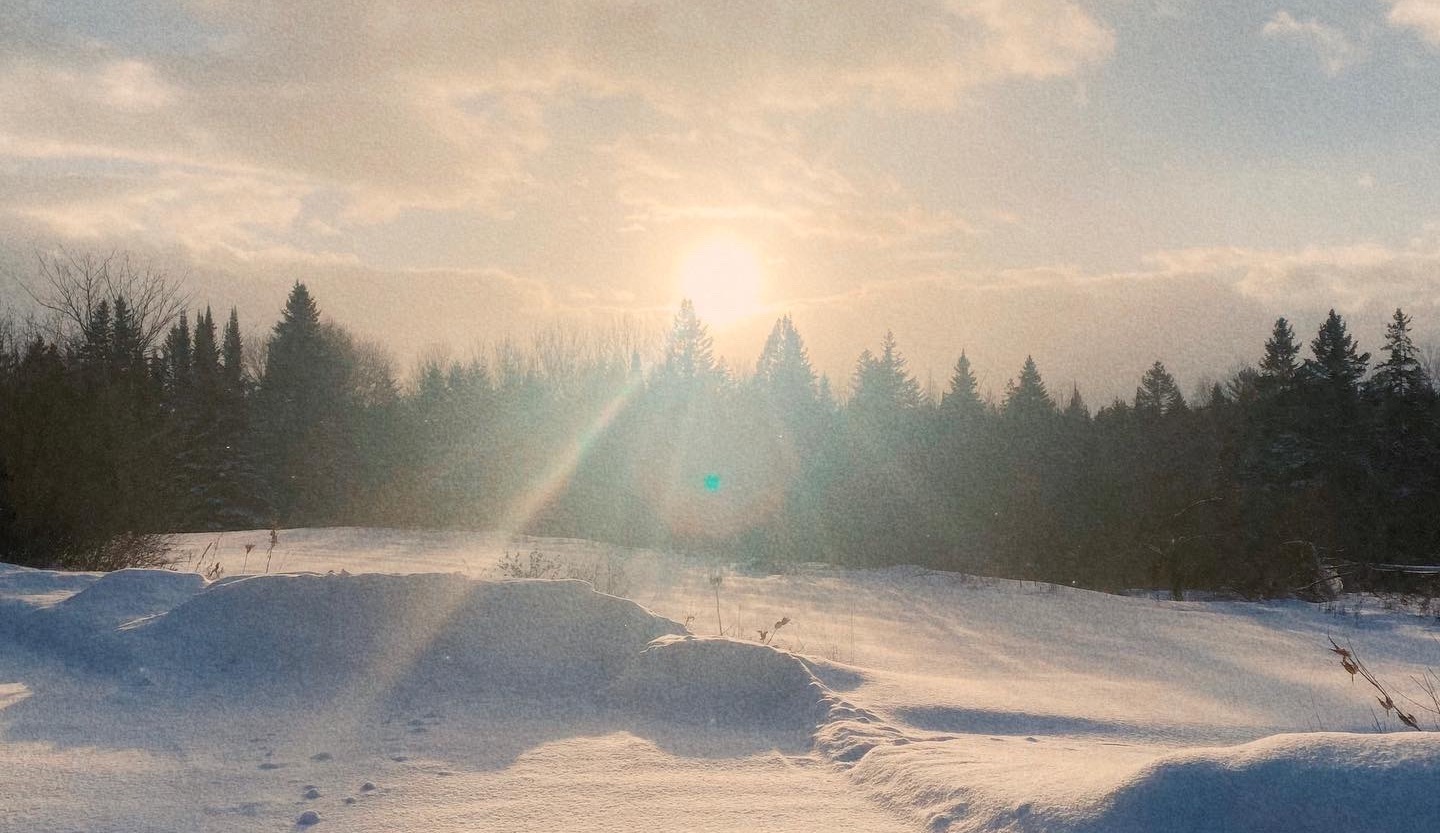 4. Fewer crowds.
The height of Vermont tourism takes place in summer and fall. So as winter sets in, things tend to slow down quite a bit. There are fewer crowds to navigate in busier areas and wait times at restaurants and such go down. Thus, it's a great time to visit if you're looking for an opportunity to really get away and enjoy a break from more crowded places. (Obviously, ski resorts are an exception to this rule, as winter is their busy season. All the more reason to book a quiet retreat to come "home" to after a long, busy day at the mountain!)
5. The season's slower pace.
These days, life for many of us seems to offer few opportunites to truly slow down. I don't just mean a two-minute break to check your phone before you rush to your next meeting. I mean the kind of slowness that resets your entire body's pace. Where you can feel your shoulders relax down, your muscles release their tension, and your face soften. You might even experience time itself more slowly. The need for genuine slowness and rest is nature's great lesson of the season, and there is much benefit to be enjoyed if we listen. If you allow yourself this slower pace, then winter feels much less like a drag and more like a gift.
* "Honorable harvest" is a philosophy famously described by writer, botanist and Potawatomi elder Robin Wall Kimmerer. It's a set of guiding principles for how to forage and harvest ethically, based on a commitment to reciprocity between humans and the land. Namely, to never take more than you need; give something in return; never take the first or last of what you find; harvest in a way that minimizes harm; share the harvest with others; and have gratitude for the gifts of the earth. If we take care of Mother Earth, then she takes care of us too. 
Looking for a place to get away this winter? Our Retreat Barn is perfect for groups of up to 25 people and available year-round! Drop us a line and let us know how we can help. We'd love the opportunity to host you soon.