If you're anything like us right now, you're swimming in cucumbers! We did not one but two plantings of cucumbers this year, one back in May, and one that went in the ground in late July as soon as the garlic came out of the same spot (an ingenious tip I picked up from a fellow gardener in our zone). Not only is the first planting still going strong, but the second planting is now producing too, so I'm doing my best to stay on top of them!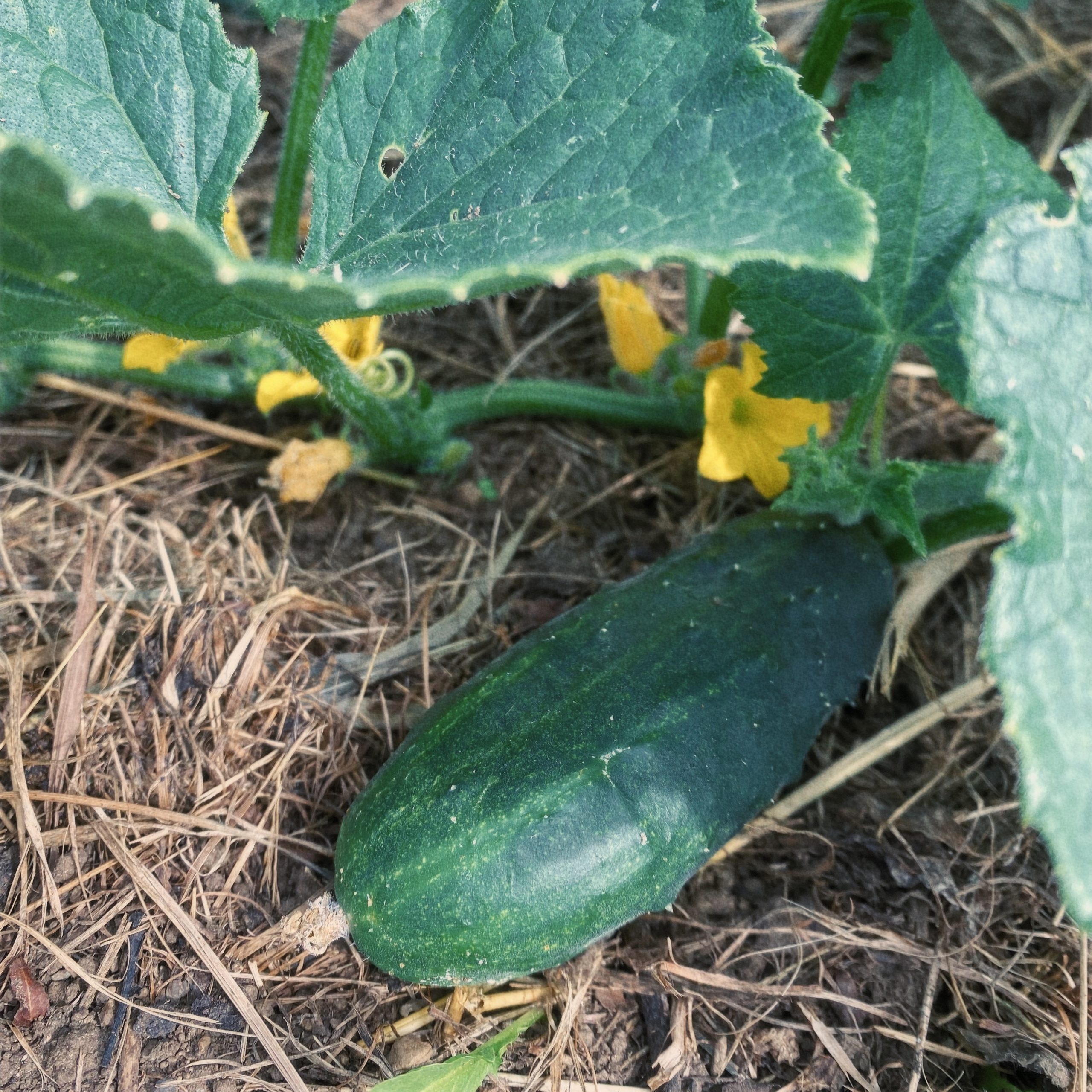 In the spirit of cucumber season, I wanted to share my easiest-ever quick pickle recipe with you! This recipe requires no boiling, no canning, and no long ferment time, and comes together in 5 minutes. It has become my first go-to when the cucumbers are rolling in faster than we can eat them fresh, and they've also become a huge hit with our guests at the last few retreats! If you are a fan of simple, clean-tasting, crisp pickles (and not those soggy, yellow-dyed ones from the store) then I'm confident you'll love them too. They're so simple and fast to make that I still rack my brain why I didn't start making my own pickles sooner. Without further ado, here's the recipe!
Sky Meadow Easiest-Ever Garlic Dill Quick Pickles
3-4 pickling cucumbers*
2 tablespoons vinegar**
2 teaspoons pickling/canning salt
One large garlic clove
A few sprigs of fresh dill
One 16-ounce jar
Filtered water to top off the jar
* It's best to pick your cucumbers when they're about 5-6 inches long. Any larger, and your pickles won't be quite as crunchy, or fit as well in your jar. Homesteader legend also has it that you want to pick your cukes in the morning or evening, as the hot afternoon sun can bring out more bitterness in their skins. If you don't have access to a cucumber plot, local farms may offer pickling cucumbers right now. Or just look for those mini Persian-style cucumbers at the store!
** This is a simple recipe that's easy to customize to your taste. I usually go for either plain white vinegar for the most "classic" neutral taste, or raw apple cider vinegar for a slightly tangier pickle (and some bonus probiotics from the naturally fermented vinegar!). You could certainly use another kind to vary the flavor profile if you wish. Just make sure it's one that will pair well with the garlic and dill flavors you're also infusing!
Once you've got all your stuff, let's get to the method.
Method:
Rinse your cucumbers and cut to your preferred pickle shape. I like to slice mine lengthwise into quarters for pickle spears. You can also slice them into rounds around 1/4″ thick.
Next, prep your brine. Simply add the salt and vinegar directly to your jar, and swish them around a bit so that the salt starts to dissolve. You don't need to be too persnickety about it at this point.
Next, prep your flavorings. First, crush the garlic clove gently with your chef's knife. Then remove and discard the skin and place in the bottom of your jar. Next, quickly rinse the fresh dill, then roll it up and place it in the bottom of the jar so it lays somewhat flat.
Stuff the jar full of your sliced cucumbers. Once it's as full as you can get it, top off the rest of the jar with filtered water until the cucumbers are fully immersed in liquid.
Close the jar tightly and give it a good shake for about 30 seconds.
Leave the jar on the counter overnight, then pop it in the fridge the next day and start enjoying your homemade pickles immediately. Or, pop it straight in the fridge and start enjoying your pickles after 2-3 days. Your choice!
Pickles made with this method will keep for about 2-3 weeks in the fridge. They make excellent toppings or sides for sandwiches, lovely additions to a charcuterie board, or as a mix-in for egg salad, tuna salad or veggie dip. Hope you enjoy!