The time leading up to the Winter Solstice is one of my most favorite times of year. As the days get shorter and the nights get longer, all I crave is coziness! I make a point to rest and reflect on the past year and all of its lessons, memories, accomplishments and things to be grateful for. Few things enhance that "hygge" feeling quite like mindfully whipping up a delicious baked treat to enjoy with a cup of tea by the fire.
I'm not an especially gifted baker, usually preferring to cook up savory dishes, but I do enjoy making basic sourdoughs and the occasional sweet treat. I am especially fond of the warm, spiced, nostalgic flavors of cinnamon, clove, cardamom and nutmeg that we often associate with this time of year. Enter this recipe: an easy, simple, beautifully spiced, apple cinnamon bread.
Due credit goes to Julie Blanner's apple cinnamon bread recipe as the original inspiration for this recipe. I discovered her version several years ago now, and it has become a beloved go-to in my repertoire. It's easy to make, turns out beautifully every time, and chances are you already have most or all of the ingredients on-hand. In other words, it's perfect! This apple cinnamon bread is sweet, but not too sweet — great to serve with a little whipped cream for dessert, or have a piece on its own with your morning coffee. The apple adds so much moisture to the bread and helps give it a soft, tender crumb. I have tried a lot of variations and substitutions over the years and gradually made this recipe my own.
Without further ado, here is my take on this wonderful recipe! I hope it brings some cozy comfort and festive cheer to you too. Happy Solstice!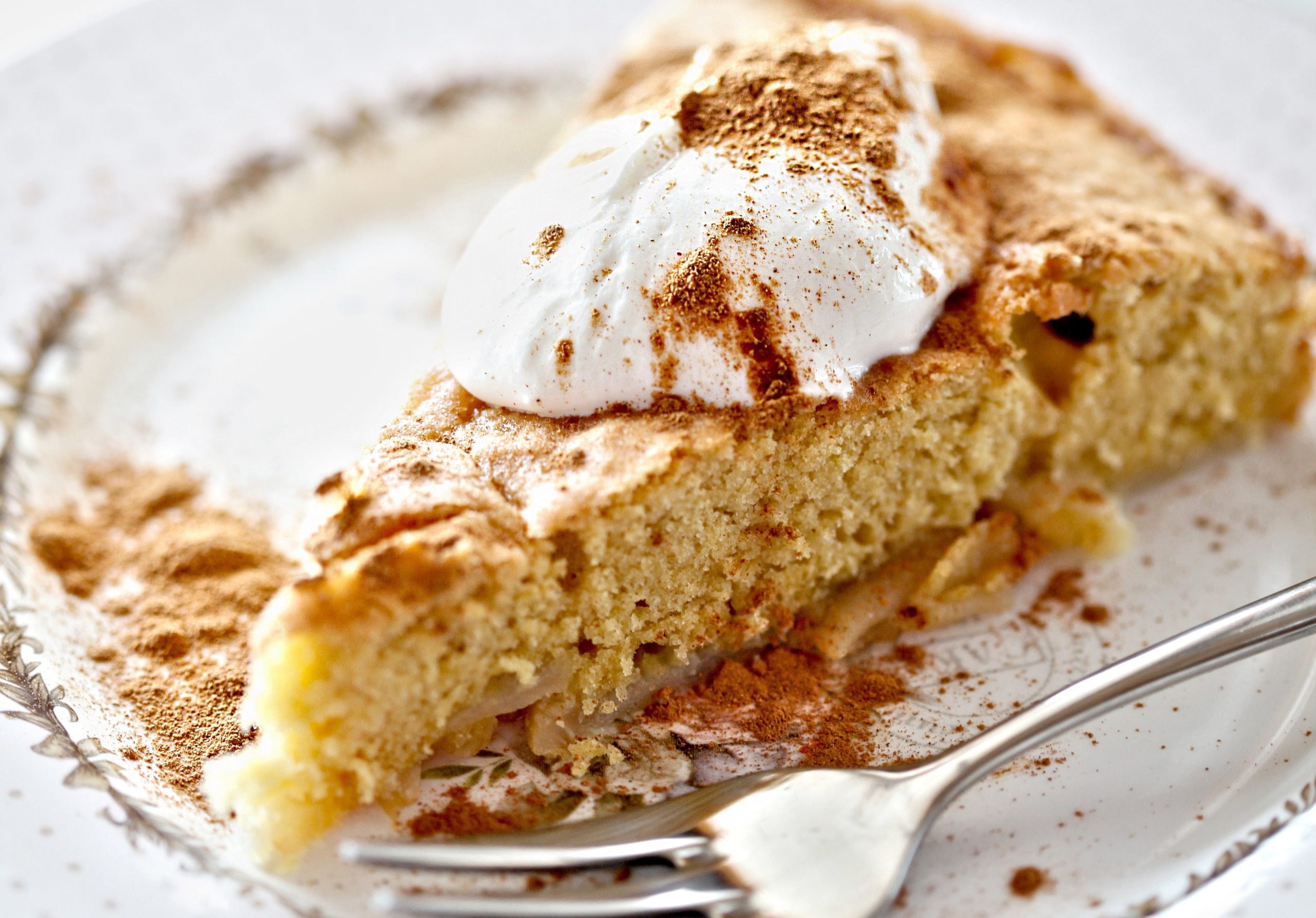 Sky Meadow Apple Cinnamon Bread
Ingredients
1

 

cup

 

sugar

2

cups

 

all-purpose flour

1 T baking powder
1/2 tsp kosher salt
1 tsp ground cinnamon
1 tsp extra warming spices (optional)*
1 egg
1 cup milk (non-dairy works too)
1/3 c melted butter (around 5 1/3 tablespoons)
1 apple, cored and finely diced or grated
* You could create your own mix of things like ground clove, cardamom, allspice, nutmeg, or ginger, or use a pre-mixed "pumpkin spice" blend. Anything that gives you that cozy holiday feel! (You also have my full permission to increase or lower the exact amount of spices. I like to eyeball it and I have yet to create a version that's overly spiced.)
—
Step-by-Step Method
Grease a large loaf pan, or alternatively you can use a 8-9″ cake pan or springform for more of a cake presentation. (It works great either way, but do be aware that the loaf pan will have a longer bake time.)
Preheat your oven to 350°F.
Combine sugar, flour, baking powder, and salt, and set aside.
Whisk together the eggs, milk and melted butter in a separate bowl until just combined.
Gradually add the dry mixture to wet until just combined, being careful not to over-mix.
Mix in the diced or grated apple and spices. (This is a good time to add any dried fruit, nuts, or other optional additions you might like to make. See the next section for ideas.)
Pour mixture into your prepared loaf or cake pan. (Add the streusel topping if desired — see next section.)
Bake until a toothpick comes clean. This should be around 45 minutes for a loaf pan, or 30 minutes for a cake.
Things You Could Add
I love to add a streusel topping to this, but it's totally optional. I usually take the leftover ~2T of the stick of butter I used for the batter, melt it down and then stir in a spoonful of flour, sugar, cinnamon and around 3/4 cup oats until it has a crumbly texture. Then, simply sprinkle it over the top of your loaf before baking.
You can also whip up a simple glaze to top it off with confectioner's sugar, milk and a little splash of vanilla if desired.
Dried fruit like raisins, cranberries or even a little minced dried orange peel makes a lovely addition to the batter.
Chopped walnuts or pecans would also work well!
To make a vegan version, use a neutral-flavored plant-based oil in place of the butter, non-dairy milk and a flax egg.
One of these days, I'd like to experiment with combining this bread with a zucchini bread recipe. I imagine a carrot cake variation would also be incredible. I am always a fan of sneaking extra nutrition into things that seem indulgent!
Trying out this recipe? Be sure to let us know how it turned out! Wishing you a beautiful holiday season and a peaceful winter from all of us here at Sky Meadow Retreat.