Herbal teas (or "tisanes" for the terminology sticklers among us) have a long history across myriad cultures. Whether we enjoy them as an everyday beverage, or reach for certain types in times of stress or illness, many of us have memories associated with them. For me these start in childhood — I remember sipping chamomile tea to help me fall asleep, or pouring hot water over fresh mint I foraged from behind my mom's peony patch. As an herbalist in training today, they remain a beloved part of my daily routine. Crafting my own blends has become a favorite way to stay hydrated, diversify my nutritional intake and strengthen my relationship with the natural world. So today I'd love to share with you a DIY herbal tea recipe I recently made.
Before we get started, a necessary disclaimer: It should always go without saying that you should consult a doctor before embarking on an herbal regimen, particularly if you have specific health concerns or take pharmaceutical medications. I am not a doctor nor do I pretend to be one on the internet; this recipe is for informational and entertainment purposes only. Always think critically, research from reputable sources, and remember that moderation is key. Just because an herb is considered safe does not mean you should immediately consume it in vast amounts. Remember that even water, the most essential substance for life, can still kill you if you have too much.
Okay, now that that's out of the way….
How to Make Your Own Herbal Teas
Making herbal tea blends is incredibly simple. So simple that I feel a little silly writing it down. You literally just mix together your dried herbs of choice in your desired amounts. The fun/challenge/art/science of course is in choosing which plants to work with. A good DIY herbal tea recipe ideally balances flavor considerations along with medicinal benefits.
Getting to know all the ins and outs of individual herbs is a massive field of knowledge that I couldn't begin to cover in the scope of this post. An approach that has worked well for me so far is to start with a deep dive into the herbs that are already familiar and accessible to me (like the aforementioned chamomile and mint, or the ones in my spice cabinet). In the course of learning about those, you'll inevitably stumble on others that catch your eye, and just keep going. This way I can really focus on learning as much as I can about one plant at a time.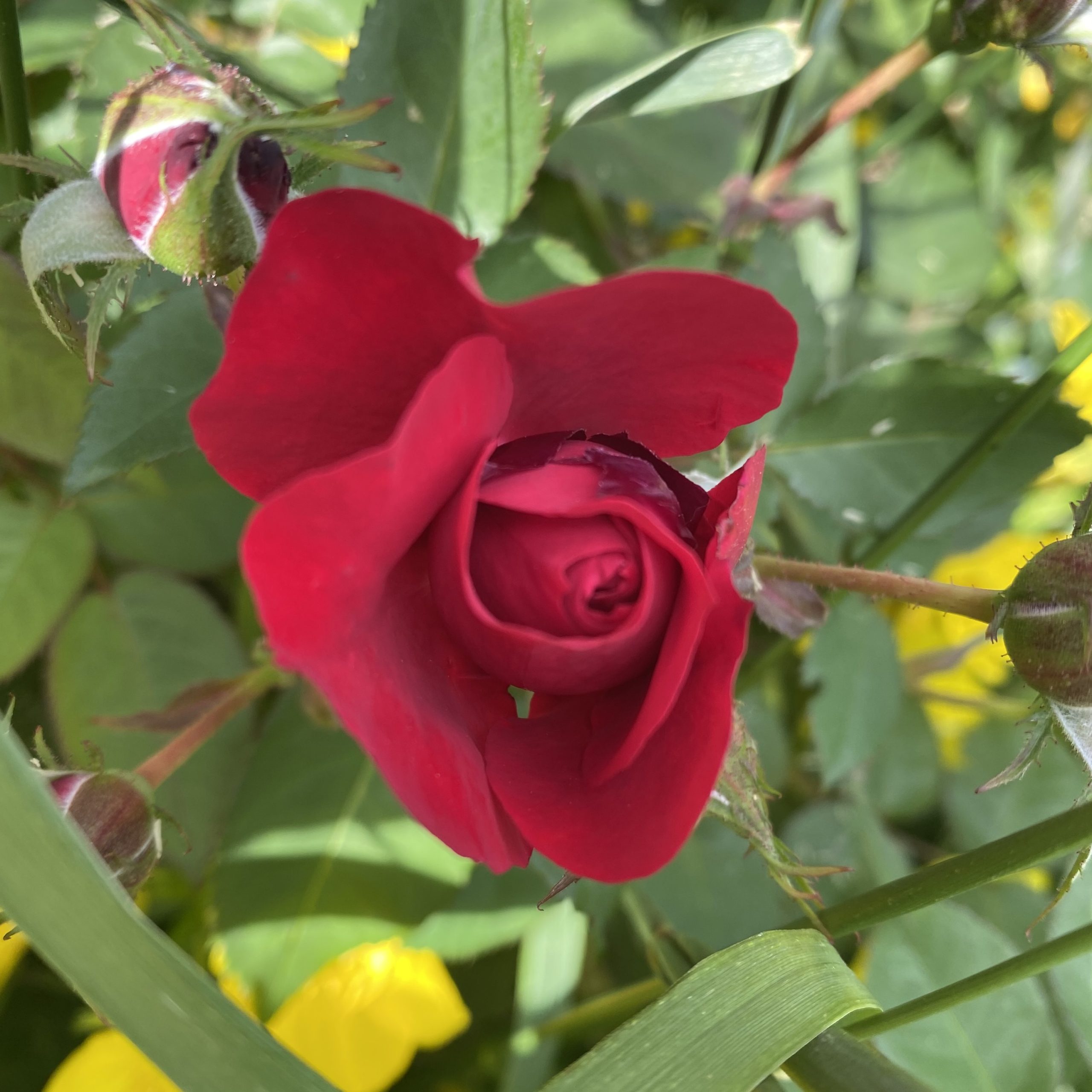 For this particular tea, my goal was to create something to help me shake off winter stagnation and get re-energized for the coming growing season. I chose dandelion leaf and nettle, both of which have been beloved for centuries as some of the first greens to emerge in spring after the long winter. Their long history of use as spring "tonics" to provide tons of nutrients and support liver health, among other benefits, has been borne out by a number of scientific studies. I also wanted to include some calming floral ingredients that give it a feeling of self-love — like buying yourself a bouquet of flowers just because. 🙂
"Spring Awakening" — DIY herbal tea recipe
In this recipe I have given amounts as proportional parts rather than specific measurements. This allows you to scale the amounts up or down to your needs. For my purposes, I use 1/4 cup as 1 part, and find that this makes a nicely sized batch. You could also use teaspoons as parts to make a small "tester" batch.
Ingredients:
3 parts dandelion leaf
3 parts nettle leaf
1 part calendula flowers
2 parts chamomile flowers
1 part rose petals
1 part lavender flowers
Method:
Measure herbs into a bowl.
Mix with clean hands until they are all well incorporated. Break up larger pieces of herb so that everything is fairly consistent in same size. This makes it easier to measure and it brews more evenly.
Steep some right away, or pop it in a jar and store it in your pantry (or anywhere out of direct sunlight). You're done!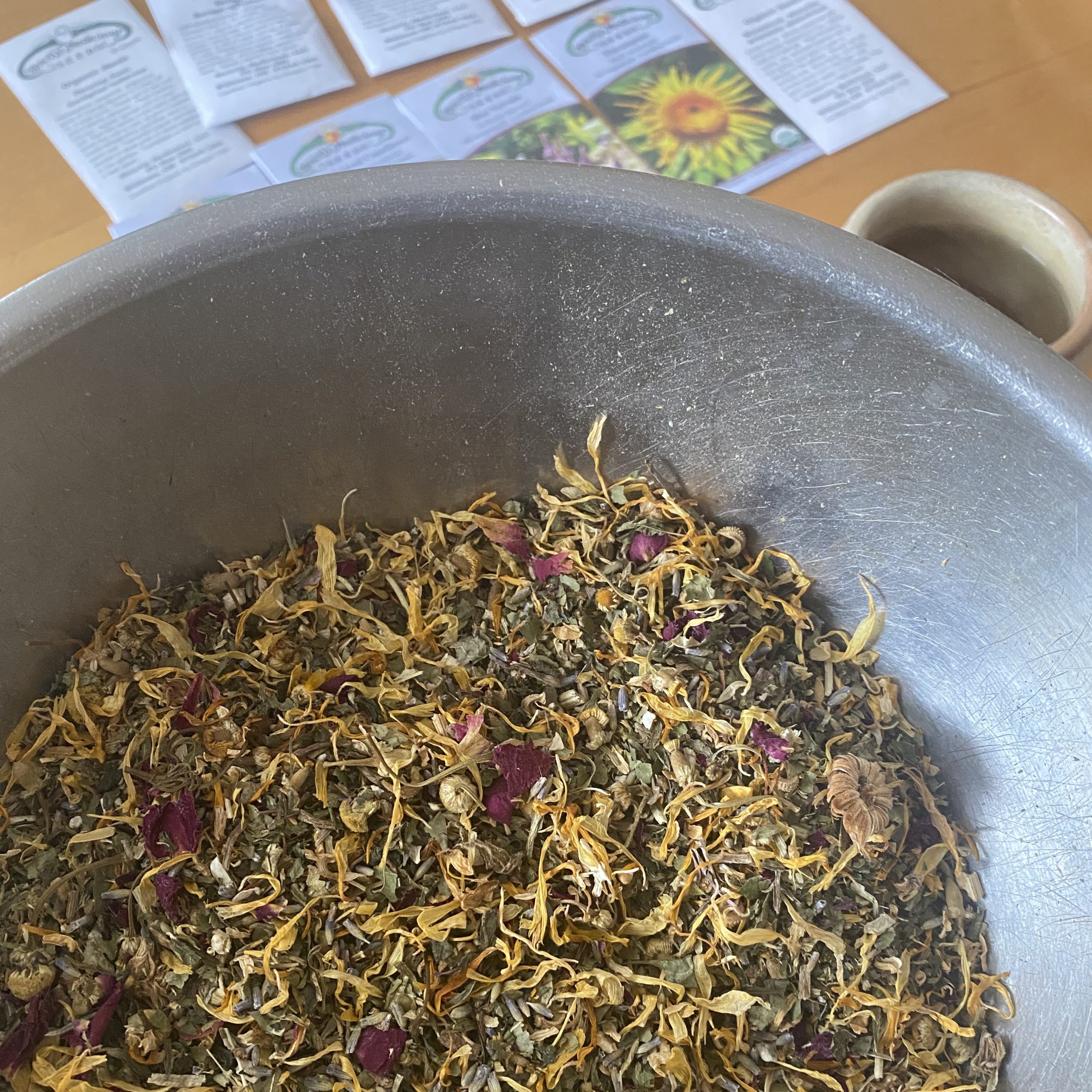 Where to Source Herbs
You can find quite a few herbs at your run-of-the-mill grocery store. You can also find them in natural food stores or bulk sections at co-ops. My personal favorite online source for organic, ethically grown or sustainably wildcrafted herbs is Mountain Rose Herbs. You can even find them in metaphysical shops (but confirm that they are indeed food grade before using them for tea, as it's not a given). This can be a good way to sample a little bit of a bunch of herbs, since ones purchased online tend to come in larger amounts. 4oz of dried herb can take up quite a bit of space, so be sure you like it before you buy!
If you have access to land that you know is free from harmful pesticides, foraging your own herbs is another cost-effective and rewarding way to stock your apothecary. Nettles and dandelion grow prolifically in the wild and are fairly easy to identify. Of course, you should always be 100% sure of plant ID from multiple sources and that the plant itself is safe to consume before ingesting foraged herbs. When harvesting wild plants, always abide by ethical harvesting practices. Seek out well-established stands, ask permission, and don't take more than you need and can process right away. Never take more than 1/3 of an established patch. Never wildharvest herbs that are at-risk or endangered; seek out cultivated options or substitute herbs instead. Consult the United Plant Savers website for an up-to-date list of at-risk and endangered plants.
If you harvested your herbs fresh, hang them up in bundles to dry, or dry them in a dehydrator. Properly dried herbs can last for a long time in storage. However, it's generally a good rule of thumb to use them up within a year or less. Fresher herbs will have better flavor and more potent medicine. I hope you enjoy this simple herbal tea inspiration! 🙂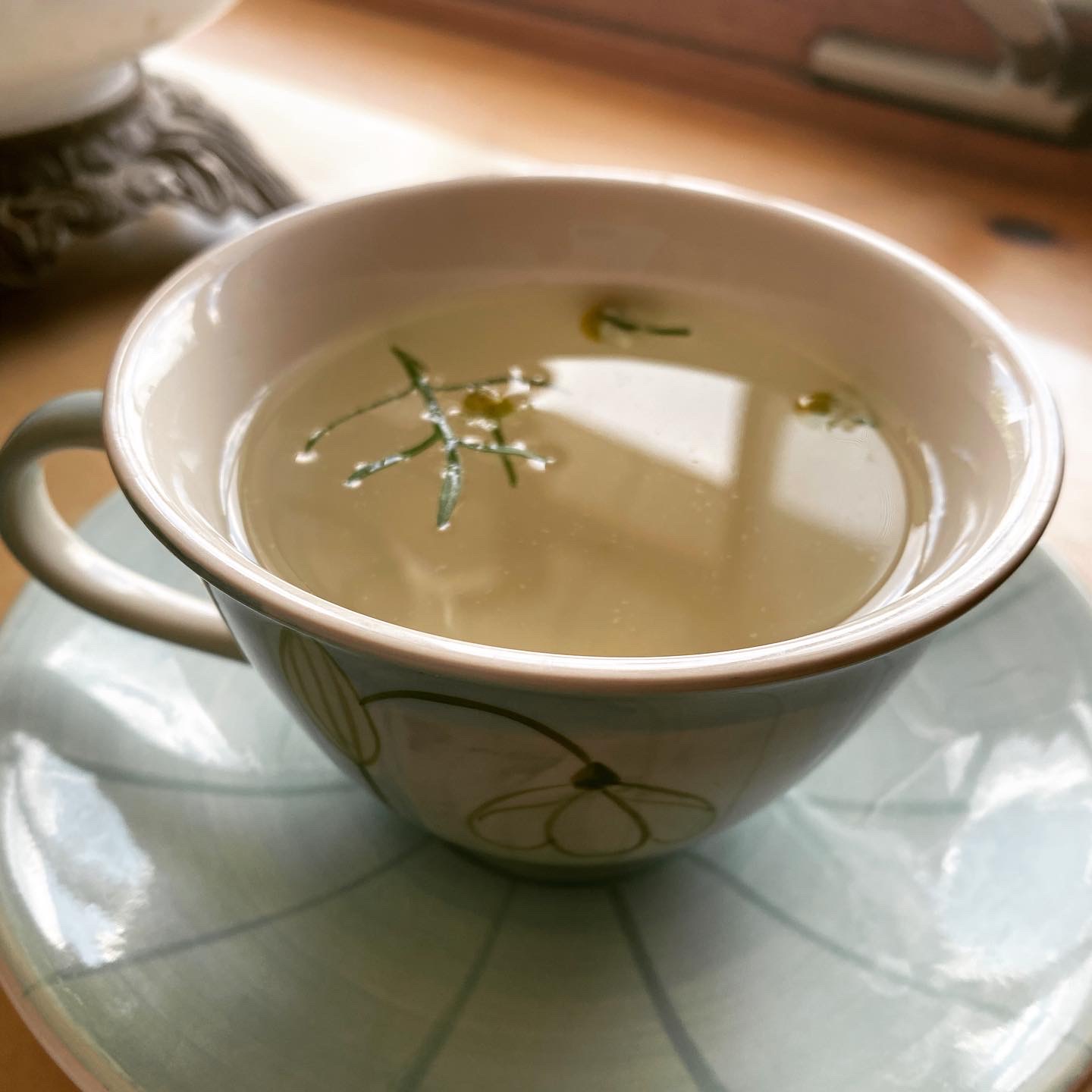 Dreaming about your next Vermont vacation? Sky Meadow Retreat is open year-round for Vermont vacation rental, group retreats, events and more. Drop us a line at [email protected] and let us know your vision! We'd love the opportunity to host you soon.
Disclaimer: The information presented here is for entertainment and informational purposes only. It is not a substitute for qualified medical advice. Some herbs may interact with certain medications or are contraindicated in the presence of certain health conditions. Please research thoughtfully from credible sources. Consult a qualified herbalist or medical professional before embarking on any herbal regimen.